Welcome to Aspenleaf Rabbitry
Where pursuit of excellence is not a destination.....it is a journey
Suzanne Hansen 970-556-5998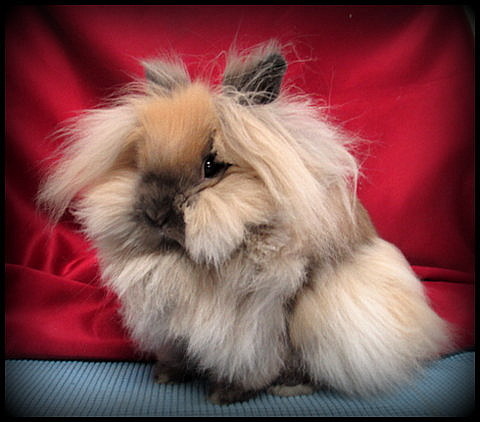 PPRBA Pueblo 4/13/14
Reserve in Show
*Aspenleaf Cashmere*

NALRC Open Sweepstakes 2013
*2nd Place Overall
*1st Place Tort
*2nd Place REW
*1st Place Blue
*1st Place Sable Point
*1st Place Blue-eyed White
*1st Place Smoke Pearl Point

I am an ARBA Registered Rabbitry located in the beautiful Choice City of Fort Collins, Colorado. My name is Suzanne Hansen and I have a passion for all of God's creatures. I am a Certified Veterinary Technician by occupation and presently semi-retired so I can pursue my love in breeding and showing my little lions.Thank you for visiting, have a look around at my lovely Lionheads and enjoy the moment.
I am dedicated to the improvement of the breed through careful selection and breeding. My goal is to align my breeding program as closely as possible to the Lionhead standard, concentrating on excellent over-all type, correct coat and sound bodies. Temperament is a crucial factor in showing, breeding and companion pets. I specialize ONLY in Lionheads concentrating my efforts to breed top quality bunnies that place well on the show table as well as bring joy to families that are acquiring companion bunnies. I breed colored Lionheads as well as the gorgeous blue-eyed whites.
I want to thank Melissa Wren of Sweetheart Bunnies for her confidence in entrusting her best bunnies to me. She has given me an incredible start and her rabbitry line is the foundation of my breeding program. Marlo Byers of Lomar Lionheads has also given me a good start with quality Lionheads along with my good friend Marcia Lierman of Bunny Express. Without their friendship and support, I wouldn't be having the fun I have now! I have since added top quality pedigreed Lionheads from Pridelands, Legendary, ChowMane, Haven, Bastet, and Setzke.
I fell in love with Lionheads when I first saw one in a pet store three years ago, but didn't acquire one until last year. I started out with non-pedigreed rabbits, and did not get the quality I wanted (not a surprise, huh?). I searched the internet and was fortunate to find that Wrens Sweetheart Bunnies was local. I purchased my first pedigreed Lionhead bunny, a black tort doe I named Buttercup, from Melissa Wren. She has many nice wins including 2 BOB and BOS.

A little bit about myself: I have two grown daughters. Michelle is married and has three children, Jeremyah 8 years, Brianna 5 years, and Peter 3 years. When Jeremyah comes over one of the first things he asks is, " Can I hold a bunny?" I enjoy their visits and happy they are not too far away. My other daughter, Christina, is a lover of horses and Siamese cats (as I am) and travels about the country with her cats in tow. She is a talented artist and someday will make a name for herself. She now resides in San Diego.
I currently love and care for many pets. I raise and sell hand-fed cockatiels. Other residents are my happy laying hens, 2 red-sex links and an Araucana, and 6 beautiful white homing pigeons who share their coop. My constant companions are my two Siamese cats, Annapurna and Kuma, who take turns on my lap when I'm on the computer. Josie, my sheltie, passed away in 2014 at almost 14 years.
I am originally from California and moved to Colorado 12 years ago (1999) While in CA I raised pedigreed Netherland Dwarfs, Jersey Woolies, and Fuzzy Lops and also Peruvian guinea pigs which my girls showed in 4H. I was also a broker for the pet stores in a variety of small pets. My main enjoyment for over 20 years was breeding and showing my shelties to their championships and many obedience titles. After moving to Colorado, I went back to college to get a Certified Veterinary Technician degree and work as a technician in veterinary hospitals. I also have a certification as an assistant lab animal technician. Because of my background and education, I am able to understand and care for the needs of my pets at a higher level and enjoy every minute of it!

Site under construction 2010/09/07.

.